Contact us
Lansing Headquarters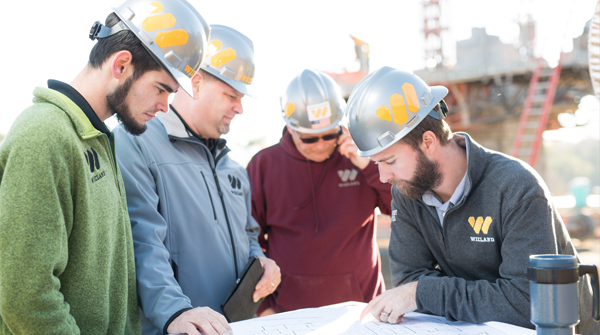 Why Work at WIELAND
If you're seeking a dynamic, enthusiastic and progressive organization where you can advance your career, WIELAND may be the place for you. We are constantly in search of highly-motivated individuals who are natural problem solvers and outstanding communicators. These traits form the nucleus of our DNA at Wieland. High performers who join us tend to stay with us. The average duration of our eight Shareholders is 18 years. We rigidly screen our applicants and only hire the best.
We are generally seeking project managers, superintendents and accounting professionals in or near our office locations in Michigan, Florida, Louisiana and Texas. If you are looking for "just a job," you need not apply. However, if you are seeking a career with a firm that has a rich history and an aggressive growth plan, apply online today!
Keys to Success
WIELAND is highly motivated to attract, grow, and retain great talent.  We have a supportive atmosphere that offers real opportunity, achievement, recognition and future advancement that makes WIELAND a great place to work.  We are committed to superior construction management processes and strive to deliver great buildings in a safe, timely and environmentally responsible manner.
While we are continuously looking for talented people who possess a wide range of construction expertise, we are always accepting applications for a few positions including: Project Manager, Assistant  Project Manager and Project Superintendent, regardless of job availability.
Health & Wellness
Medical Plan
WIELAND's medical health insurance is with Blue Cross/Blue Shield of Michigan. Our offering is a PPO Plan that offers an extensive range of in-network providers across the nation for all employees and their dependents.
Prescription Drug Plan
Our plan includes a three-tier retail copayment prescription drug card. Mail order pharmacy services are also available.
Dental Plan
Our dental plan is provided by Guardian-DentalGuard Pref NAP coverage. It includes 100% coverage for preventative services, 80% coverage for basic services and 50% coverage for major services. Maximum annual benefit is $1,000 per year per covered person.
Optical Plan
Our optical plan is provided by MetLife and includes co-payment for exams, in network allowances for frames/contacts at pre-stated frequencies.
Health Care and Dependent Care Reimbursement Accounts
Reimbursement Accounts, also known as Flexible Spending Accounts, enable you to set aside a predetermined dollar amount in an account to cover eligible out-of-pocket health care or dependent care expenses throughout the year. IRS rules allow you to contribute to your account(s) through payroll deduction on a pre-tax basis. Then, as needed, you can withdraw funds from your account(s) to reimburse yourself for the eligible expenses you've paid.
Disability
This coverage helps to protect your income if you become disabled because of a sickness or injury. This benefit will help you and your family meet your day-to-day living expenses by providing guaranteed monthly income benefits equal to 60% of your basic monthly income to a maximum of $5,000 per month.
Short Term – Benefits begin the 1st day after an accident or 8th day following an illness and is payable for 13 weeks
Long Term – Benefits pick up after 13 weeks, payable to age 65
Life Planning
Life and Accidental Death and Dismemberment Plan
Group life insurance is provided by MetLife based on your salary. Death/Dismemberment provides twice the coverage.
Supplemental Life Insurance
Employees may elect to purchase additional life insurance on themselves and their family members at pre-established rates and terms while employed.
401(k) Plan
We offer a comprehensive 401(k) savings plan with a 25% employer match on employee contributions.  Our plan offers a variety of investment options including fully self managed portfolios, roth options, and risk based portfolios.
Flexible Spending Accounts
These accounts allow employees to pay for health care and dependent care related expenses that are not covered under your insurance programs.  Your annual election will be withheld from your paycheck on a pre-tax basis.  You will be provided a benny card for qualified expenses eligible based on IRS regulations.
Paid Time Off
Vacation/Sick/Personal – PTO
Personal Time Off  (PTO) is available for all employees and will be pro-rated for your first calendar year of service then awarded at pre-set levels based on years of service.
Holidays
Six holidays plus the day after Thanksgiving are observed: New Year's Day, Memorial Day, Independence Day, Labor Day, Thanksgiving, and Christmas.
More WIELAND Employee Programs
Discretionary Bonus  program
Bonuses are considered annually for all employees based on corporate profitability, personal contribution, and project performance.  Amounts are discretionary and determined by management.
Relocation Assistance
The Company pays moving expenses and incentives to employees who relocate.
Education and Training Assistance
WIELAND is committed to the professional development of our employees and provide monthly in-house training opportunities on a wide range of work and personal issues.  Tuition assistance will be awarded on a pre-approved basis for eligible employees.
Drug Free Workplace
Wieland has established a Substance Abuse Testing Policy
Some of the benefit plans listed above have eligibility rules and have a waiting period prior to eligibility.  There is also a 30-hour work week minimum requirement to be eligible for most benefits.
We are an equal opportunity employer that does not discriminate. We take all reasonable steps to protect the right of every employee to work in an environment free of intimidation and harassment.